Managing the balance between cost and service levels requires a deeper understanding of both – which becomes even more difficult in an ever-changing market. Give your procurement leaders a central location to understand and manage these variables.
Easily Manage Cost and Performance
Plan Your Procurement Better
Make smarter freight-allocation decisions by incorporating ISO data and service costs into your procurement planning.
Uncover True Landed Costs.

Quantify the financial impact of service failures and allow procurement leaders to improve the RFP process with cost-to-serve metrics.
Identify Poor Performers
Use ISO analytics to identify where poor performance is causing unnecessary costs, so you can put your worst-performing lanes up for bid.
Find the Root Cause

Diagnose the root cause of service failures to proactively address supply-chain bottlenecks and start having more productive conversations with your business partners.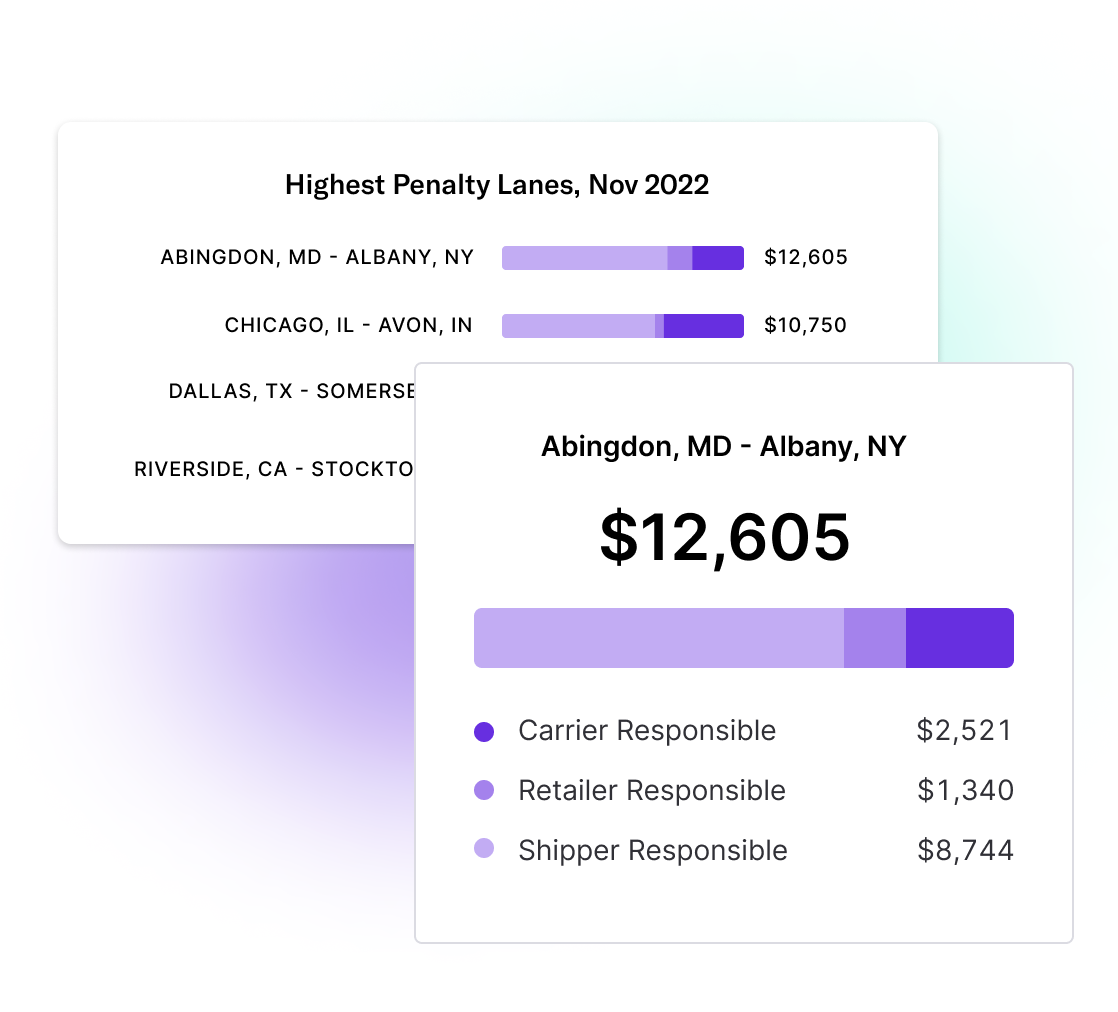 Confidently Source New Capacity
Score Your Carriers
Every one of your carriers receives an overall 'ISO Score', which is a unique calculation based on your preferred KPIs.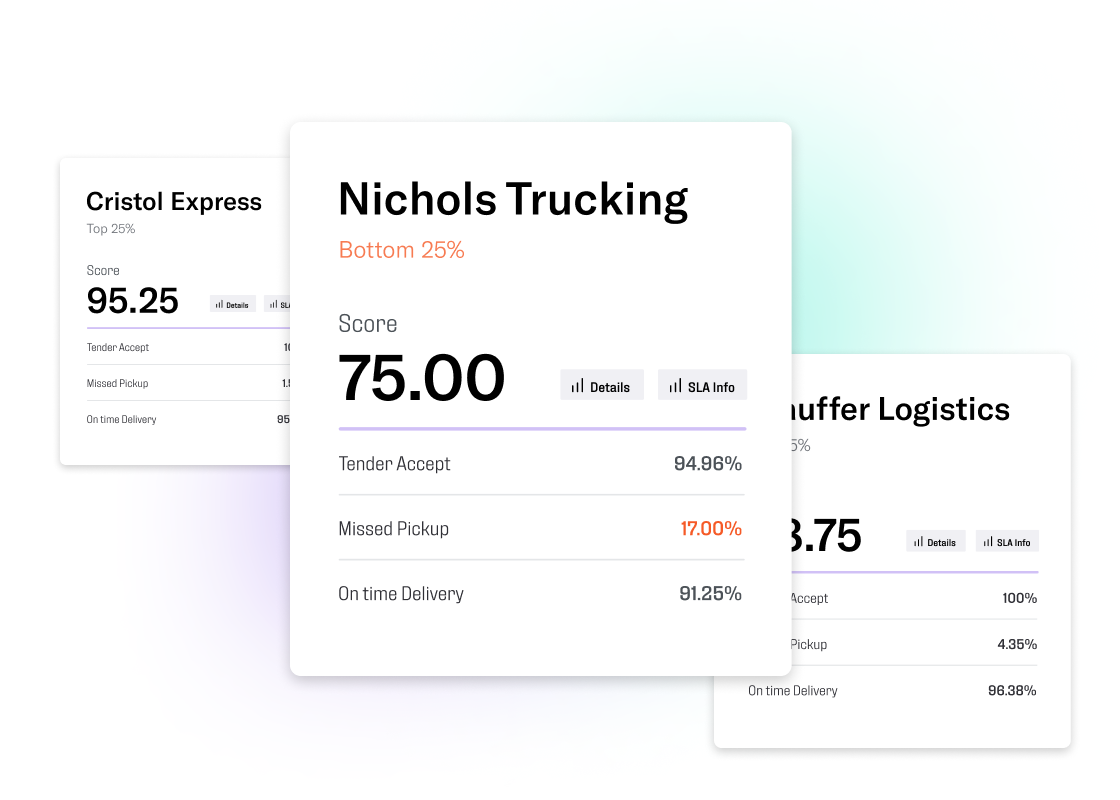 Compare How They Stack Up  
Our pre-built comparison dashboard lets you compare how carriers stack up against each other across KPIs, lane, customer, and more.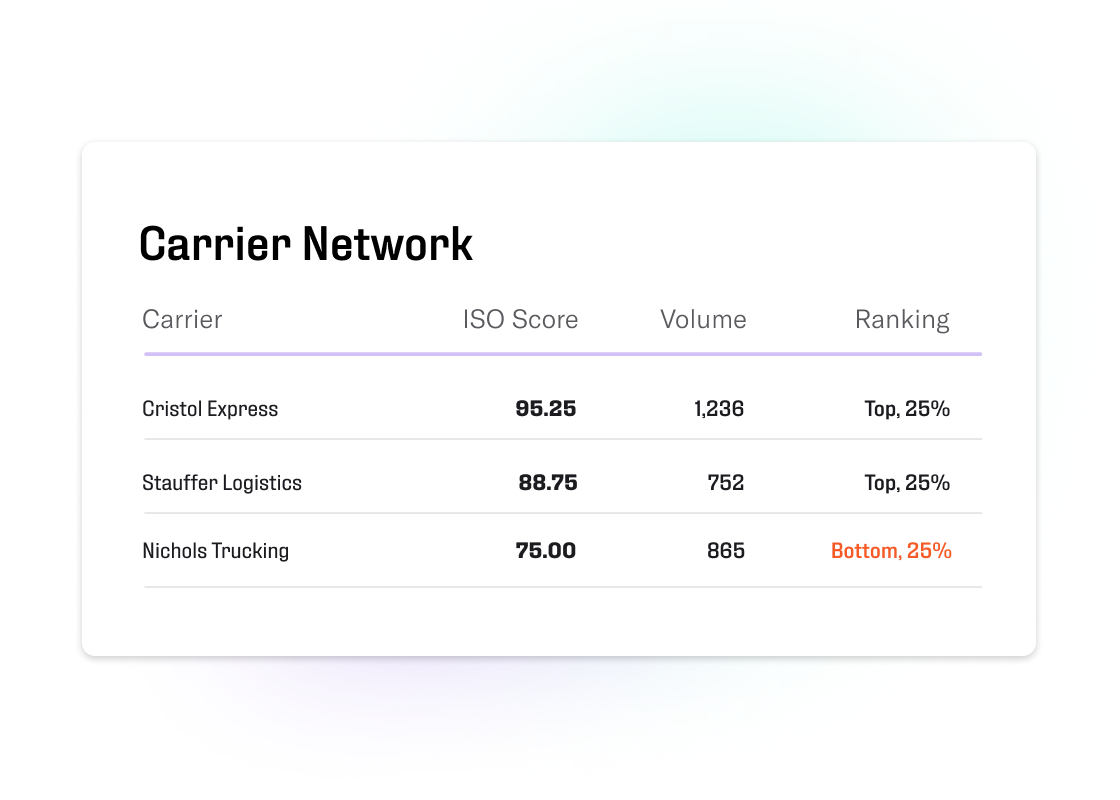 Stay Aligned With the Market
Access Industry Benchmarks
With internal and external benchmarking data, you can measure how your carriers compare against each other and how your company is performing in the market.
Follow Market Trends
Keep a finger on the pulse of market trends to ensure service continuity, avoid routing guide collapse, and intervene faster when disruptions occur.
Learn From Expert Consultants
Industry experts share best practices, highlight opportunities for you to improve operations, and provide insights into how service is impacting the industry.
On a surface level, the cheapest linehaul seems like the best option – but price is just a fraction of the equation. When ISO cross-references price, performance, and risk profile, you can discover the best and most cost-effective carriers for your supply chain.
"We all know that ISO is the third-party source of truth we can go to for collaboration. It's not 'us' against 'them' – it's a team effort. Now that we have that one place to go, we don't have to run around discussing whose data is right and whose is wrong; we're operating on the same dataset. Instead, we can discuss what areas we can improve and identify where we're already doing well."
Cory O'Malley
Business Intelligence Manager at ELITE Transit Solutions
Want a demo?
Register your interest and we'll be in touch.