Over the past few years, the supply chain has weathered a perfect storm, grappling with the destabilizing impact of the pandemic, an unparalleled driver shortage, and extreme fuel price volatility. And the challenges are far from over.
The rapid evolution of today's market is forcing brokers to navigate a significantly different landscape. Gone are the days of the strong organic growth driven by shippers desperate for capacity. And digitization and low barriers to entry are spurring competition and deflationary rates.
The Urgent Need for a Central Source of Truth for Carrier Performance
As market forces shift, retailers are cutting orders to avoid overstocks and pushing suppliers for lower prices to offset the impact of inflation on customers. As both sides look to cut costs, transportation is in the crosshairs as an opportunity to gain advantage. To succeed today, established brokers have to show their value based on more than just the lowest price. They must differentiate through a performance edge that delivers the lowest total cost of service and meets the new, stringent requirements shippers are putting in place as a result of changing market conditions.
The Freight Industry Is Larger and More Fragmented Than Ever
Every day, our deeply interconnected freight network moves goods totaling an estimated $52 billion throughout the U.S. This figure drives home the scale and impact of daily shipping decisions, in which brokers play a pivotal role in matching shipper loads with the right carriers. Meeting shipper service requirements, and doing it profitably, is a monumental task.
Since 2020, the volume of truckload freight moved through brokers has doubled, now accounting for an average of 20% annually, and climbing. Add the fragmentation across 1,102,799 carriers, and it's clear why consistently finding the best carrier for a customer's loads (and maintaining a margin) is like finding a needle in a haystack. No single broker network, under today's model, can have the full-picture insight needed to successfully optimize procurement.
Digitization Lowered the Barriers to Entry
The industry's initial wave of digitization gave brokers an efficiency gain, providing an alternative to manual processes like spreadsheets and phone communication to track loads. The availability of new software tools streamlined key workflows. Procurement and carrier onboarding tools made carrier selection more efficient and cut the time required to do things like verify documents to maintain carrier compliance. Real-time pricing indexes and digital load boards made it easier for any broker to view and bid on available shipments.
The savings generated on internal operating expenses made it possible to surface capacity at a lower cost. But the first-mover advantage was short-lived. Now, running a digital shop has gone from differentiator to table stakes. It's also lowered the barriers to entry, bringing a flood of new competition into the ranks.
The number of freight brokers servicing the market is expected to grow by a 36% CAGR from 2020 to 2028. The high growth is propelled by the fact that it takes only an estimated $5,000-10,000 investment for a new broker to set up shop with the required license and insurance.
In a market lacking access to industry-wide performance standards, unknown brokers are undercutting established players on price. They're winning business without up-front evidence they can meet a shipper's SLAs. To stand apart from the competition, brokers need clear and measurable benchmarks to justify business retention and new business acquisition.
Brokers Have Too Many Blind Spots
Brokers take a position on a load and hope to service it for a profitable margin. But sourcing the right carrier is far riskier than it needs to be in 2023. Without a central source of truth for service-level performance, brokers are left to supplement data with judgment calls based on personal experience and anecdotal wisdom. All brokers have access to the same market rates, so they are forced to make decisions based on their own siloed service data.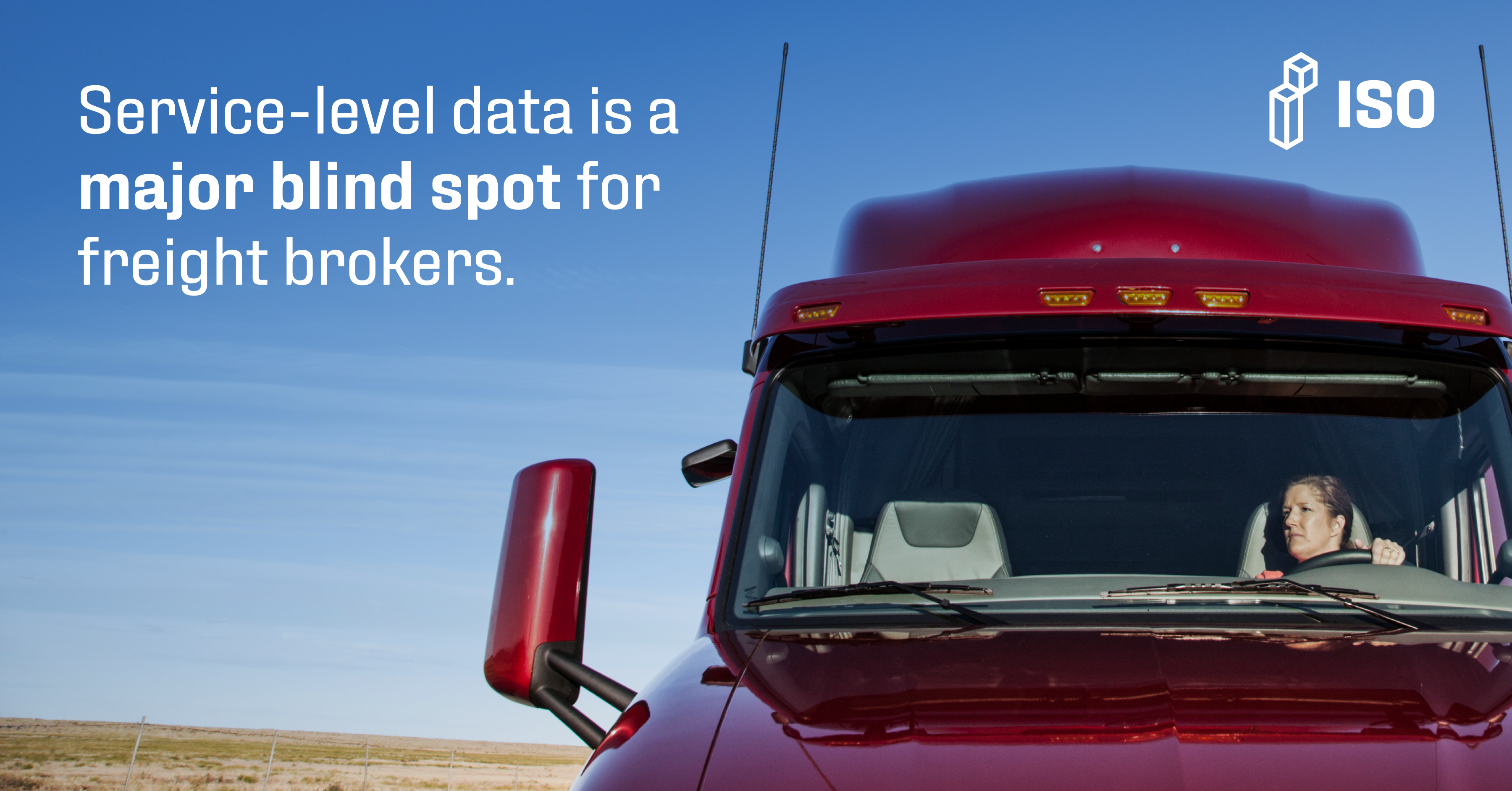 This lack of an industry-wide dataset, or index on carrier performance data, incentivizes high-risk decisions based on price that often don't align with the service expectations of the customer. Too often, that short-sighted gamble results in downstream service failures that eliminate the initial price advantage – or jeopardize the customer relationship.
The Power of Industry-standard Performance Metrics
Digitization contributed a base level of efficiency to the brokerage industry. It brought new visibility by unlocking access to datasets and procurement tools at a level previously unavailable.
Now, every broker has the ability to operate digitally, and transportation data is everywhere. But we've barely tapped into its potential. To derive meaningful insights that uncover innovative ways to improve procurement processes  – and revolutionize the way we do business – all this new data must be operationalized and standardized.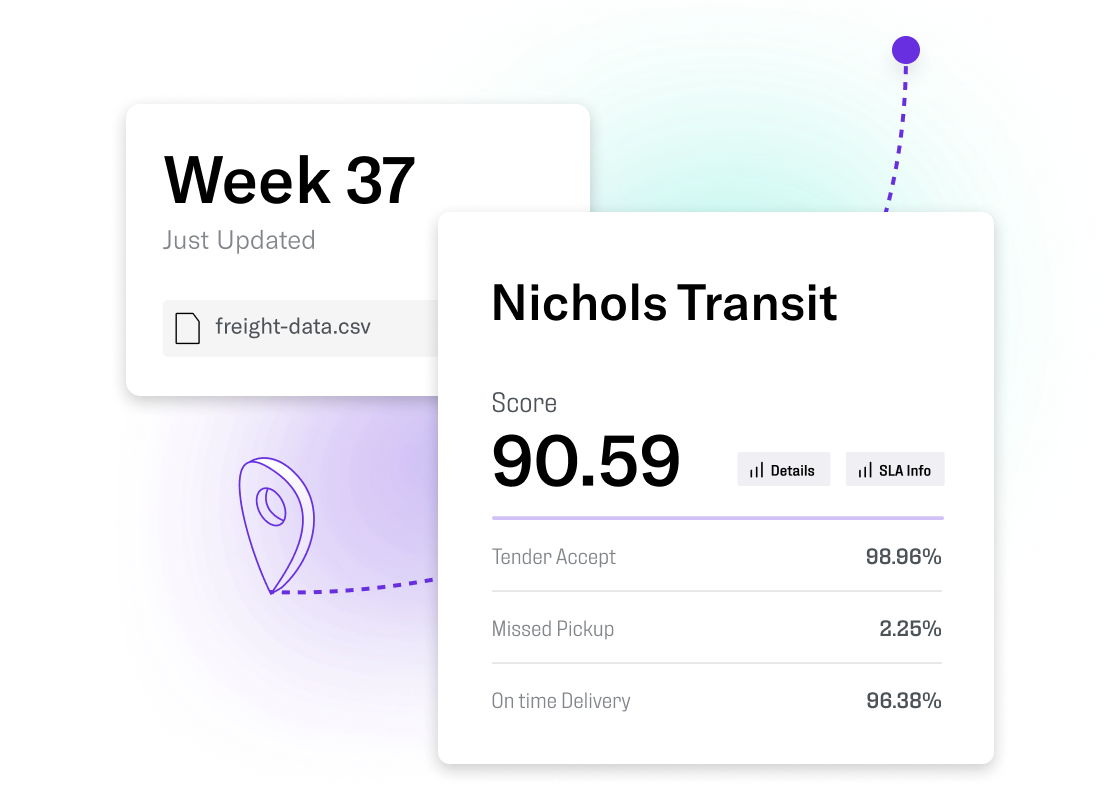 Creating a Common Language for Performance Measurement
Custom metrics and KPIs will always play a role in individual businesses, but they can't drive the industry forward. That is made clear when partners try to have productive business conversations or align on scorecard performance. Understanding of what goes into pricing and servicing a load is rife with conflict.
Imagine the financial industry operating without access to FICO credit scores – the universal shorthand of a borrower's performance history. It gives lenders insight to make quick, risk-reduced decisions and borrowers an actionable benchmark for improvement. The freight industry needs a similar type of index to provide a common language of standardized performance KPIs.
Working together, brokers would gain a central source of truth for carrier performance data. This would unlock unprecedented collaboration and identify countless opportunities to better organize and operationalize the way the entire system functions. 
Early adopters of this initiative will gain the biggest benefits:
1. Better Data To Improve Procurement
Standardized performance KPIs will enable brokers to assess individual carriers based not just on how they service loads in one network, but on how they service the entire brokerage industry. Marrying the carrier risk profile with cost, brokers can be far more prescriptive, accurate, and efficient in procurement decisions. It would deliver data-driven insight to optimize for each lane, facility, or customer SLA.
2. Demonstrable Commitment to Customer Service
Using this newfound performance intelligence, brokers can determine clear service expectations from a prospective carrier, and then optimize for each shipper partner. The investment in a service-level carrier performance index demonstrates a commitment to customer service, improves the customer experience, and brings much-needed transparency to build strategic relationships based on common goals and capabilities.
3. Differentiate Your Strengths from Competitors
Early adopters will be able to separate their network using a more complete arsenal of operationalized data based not just on price, but on the total cost of service. It's the way to distinguish, in measurable and agreed upon metrics, their strengths and capabilities from their peers. With a clear understanding of your power lanes, you can sell your services more effectively and find ways to improve weaknesses in your network.
4. Have a Voice in Defining the Performance Standards
Early adopters will be the leaders who stand out from the pack and drive the industry forward. They will have a voice in surfacing and defining the most valuable performance standards and ensuring an industry-wide standards platform that meets the useability and functionality needs of all parties.
The Precipice of Transformation
As an industry, we're standing on a precipice. The fundamental tools are in place to transform the way the industry operates – and performs. Achieving success requires industry leaders to come together to leverage and share our collective knowledge. To meet this challenge will require a neutral third party – one outside the complications that arise when retailer relationships are at stake – to build and lead a data consortium. 
The future is at stake. The strength and resiliency of our supply chain depends on the collective action we take today.
Let us know if you agree! Reach out and share your thoughts on the need for a logistics data consortium.